Rewire
At worst, faulty electrics can be a serious fire hazard and can lead to electrocution and a potentially fatal accident. This is why electrics were brought in to the building regulations under Part P. Existing wiring installations are not covered, but if you make significant alterations or new additions to the wiring in your home, the regulations come into force.
If you are thinking of buying a property more than 25-30 years old, it is important to check that the wiring is up to date before you buy. Ideally, you will get an idea of what work is required and an estimate of the likely cost so that you can take this into account when assessing the feasibility of the project and how much to offer. Even if you already own the property you are renovating, it is important to know early on if any rewiring work will be necessary, as it can be very disruptive to the fabric and decor of the building, and so is best completed early on, before any re-plastering or redecorating work takes place.
When Is Rewiring Necessary?
If a property has not already been rewired within the last 25-30 years, the chances are it will need upgrading at least in part in order to bring it up to current standards. If you plan major remodelling work that constitutes a material alteration as defined by the Building Regulations, it is likely that you will need to rewire part, if not all, of the property, including upgrading the consumer unit (fuse box). If you are extending your home, or converting an attic or garage, this will constitute new work and therefore all of the new wiring will have to conform to Part P: Electrical Safety, and all existing wiring will have to be improved to ensure that it is able to carry the additional loads safely, it is earthed to current requirements, and that cross bonding is satisfactory. The rest of the existing wiring does not have to be upgraded, except where upgrading is required by the energy efficiency requirements of the Building Regulations, i.e. central heating controls.
You should be able to tell if a house has been rewired recently by inspecting exposed parts of the wiring and by the electricity meter and fuse box (now known as the consumer unit). You can ask to do this when being shown around a property you are thinking of buying, or by inspecting your home. If there is an oldfashioned-style fuse box, with big white ceramic-style fuses, then the chances are that the property needs completely rewiring. As of January 2016 amendment 3 of the 17th Edition came into effect requiring all fuse boards to be made from non-combustible material.
With two or more sets of circuits, it can be very difficult to know if all of them have been disconnected when undertaking work and this is unsafe. Another tell-tale sign that a rewire may be necessary is a mix of different socket and switch styles. This could indicate that a partial rewire has taken place, especially if there is evidence of surface-mounted wiring running along skirting boards and up walls.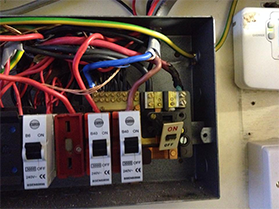 PAT Testing
Legal Requirements
The legislation of specific relevance to electrical maintenance is the Health & Safety at Work Act 1974, the Management of Health & Safety at Work Regulations 1999, the Electricity at Work Regulations 1989, the Workplace (Health, Safety and Welfare) Regulations 1992 and the Provision and Use of Work Equipment Regulations 1998.
The Health & Safety at Work Act 1974 puts the duty of care upon both the employer and the employee to ensure the safety of all persons using the work premises. This includes the self employed.
The Management of Health & Safety at Work Regulations 1999 states:
"Every employer shall make suitable and sufficient assessment of:
(a) the risks to the health and safety of his employees to which they are exposed whilst at work, and
(b) the risks to ensure the health and safety of persons not in his employment arising out of or in connection with the conduct by him or his undertaking."
How often should PAT testing should be done?
There are no absolute rules regarding how often an item of electrical equipment should be tested. HSE Guidence Notes advise "regular testing" and this is generally interpreted as a requirement for annual testing.
Electrical Safety Check (Electrical Inspection Condition Report EICR)
As its title suggests, it is a report not a certificate. It relates to an assessment of the in-service condition of an electrical installation against the requirements of the issue of BS 7671 current at the time of the inspection, irrespective of the age of the installation. An Electrical Installation Condition Report differs greatly from PAT Testing and Fixed Appliance Testing because it is an in-depth inspection on the internal wiring of the building not appliances.
The results and measurements and values taken during the Electrical Installation Condition Reports are clearly recorded in a report and appropriate recommendations, if applicable, are made for any damage, deterioration or defects observed that may give rise to danger to be remedied, such that the installation may continue to be used in safety.
The Important Purpose Of An Electrical Installation Condition Report 
Electrical installations degrade over time. For example, switches and sockets can sustain damage, cables deteriorate, infrastructure, connections can also become loose – in fact, this is frequently visually noticed during our PAT Testing inspections and we ensure that our clients are notified of this completely free of charge. The severity of degradation is even more marked in installations where adverse elements are involved, i.e. corrosive chemicals, construction waste, extreme temperatures or poor maintenance on the part of tenants or landlord. To maximize the safety of the user(s), it is imperative that every installation is periodically inspected and tested as recommended by BS 7671: 2008 (Regulation 135.1). The Electricity at Work Regulation (1989) Regulation 4 (2) states: "As may be necessary to prevent danger, all systems shall be maintained so as to prevent danger, so far as reasonably practicable such danger."
Although, there is no current legislation which stipulates that you must be in possession of an Electrical Installation Condition Report, from a liability and safety perspective it is advisable. Rented properties and certain types of public places, such as theatres, restaurants, cinemas, clubs and hotels are generally required to have an Electrical Installation Condition Report in order to obtain insurance. Also, if you are a landlord and your tenant were to be harmed due to poor internal wiring or faulty fittings, the tenant could sue. In the event of death or serious injury, resulting from failure to maintain the electrical integrity of your premises – which could be deemed as negligence – legal action could be lodged against you.
The IEE Recommend The Following Maximum Periods Of Time Between Inspections And Testing:
Domestic Installations – 10 years or change of occupancy
Commercial Installations – 5 years or change of occupancy
Industrial Installations – 3 years
Residential accommodation – 5 years or change of occupancy
Offices, shops & laboratories – 5 years